All News Releases
UMD Professor Honored as Maryland Chemist of the Year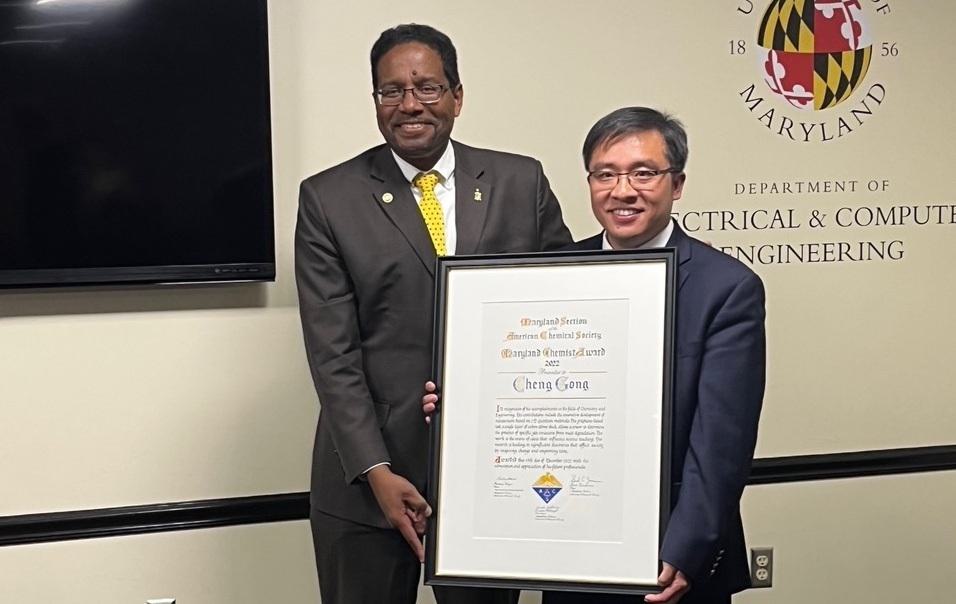 COLLEGE PARK, Md. - On Monday, December 19, 2022, Professor Cheng Gong was awarded the Maryland Section of the American Chemical Society 2022 Chemist of the Year. He is being recognized for "the innovative development of nanosensors based on two-dimensional (2D) quantum materials".
Since 1962, the annual Maryland Chemist of the Year Award has recognized and honored a member for outstanding achievements in the fields of chemistry, including pure or applied chemistry, chemical engineering, or chemical education. In over ten years, Professor Gong is the only UMD faculty to have won this award.
In conjunction with this award, Prof. Gong presented a talk about his research and vision entitled "Unconventional Sensing Enabled by the Convergence of 2D Quantum Materials and Artificial Intelligence". Through the past three years of lab operations at UMD, the Gong group has developed research directions of implementing 2D quantum materials into novel nanosensors for probing tiny signals as fingerprints of gas molecules, biological entities, and electromagnetic fields. These research activities have been under grants support from National Science Foundation (NSF), Navy Air Warfare Center Aircraft Division (NAWCAD), Northrop Grumman Corporation, Maryland Technology Development Corporation (TEDCO), UMD Brain and Behavior Institute (BBI), and the forthcoming research outcomes potentially deliver promising impacts towards food security, early detection of disease, and defense technologies. The ultimate goal of the Gong group research along these directions will be to combine 2D quantum materials and artificial intelligence (AI), resulting in unconventional sensing.
Earlier this year, Prof. Gong was honored with the University of Maryland Invention of the Year Award for his "2D Materials-Based Nanosensors for Rapid Monitoring of Meat Freshness". This campus-wise prestigious Invention of the Year Award was awarded to only one invention out of 342 inventions submitted to UMD in the past two years of 2020-2021. Prof. Gong also received the Department of Electrical and Computer Engineering Jimmy H. C. Lin Award for Entrepreneurship. For teaching and education, Prof. Gong received the Department of Electrical and Computer Engineering George Corcoran Memorial Award for faculty, which is presented annually to a young faculty member who has shown exemplary contributions to teaching and education leadership.
Cheng Gong received his Ph.D. in Materials Science and Engineering from the University of Texas at Dallas, and was a postdoctoral scholar in University of California, Berkeley till his joining of University of Maryland. He is currently an Assistant Professor in the Department of Electrical and Computer Engineering. His research interests include 2D materials and devices, 2D magnetism and spintronics, energy-efficient nanoelectronics and quantum phenomena.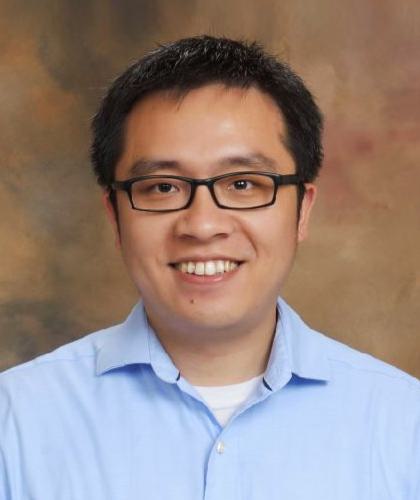 About the University of Maryland
The University of Maryland (UMD) is the state's flagship university and a leading public research institution, propelled by a $1.3 billion joint research enterprise. Located four miles from Washington, D.C., the university is dedicated to addressing the grand challenges of our time and is the nation's first Do Good campus. It is driven by a diverse and proudly inclusive community of more than 50,000 fearless Terrapins. UMD is a top producer of Fulbright scholars and offers an unparalleled student experience with more than 300 academic programs, 25 living-learning programs and 400 study abroad programs. Spurred by a culture of innovation and creativity, UMD faculty are global leaders in their field and include Nobel laureates, Pulitzer Prize winners and members of the national academies. For more information about the University of Maryland, visit umd.edu.
Follow @UMDRightNow on Twitter for news, UMD experts and campus updates