All News Releases
The University of Maryland Teams Up with L2 Brands and Unifi to Promote Sustainability
UMD partners with L2 Brands to provide Terp fans with Maryland League apparel made with REPREVE recycled fibers.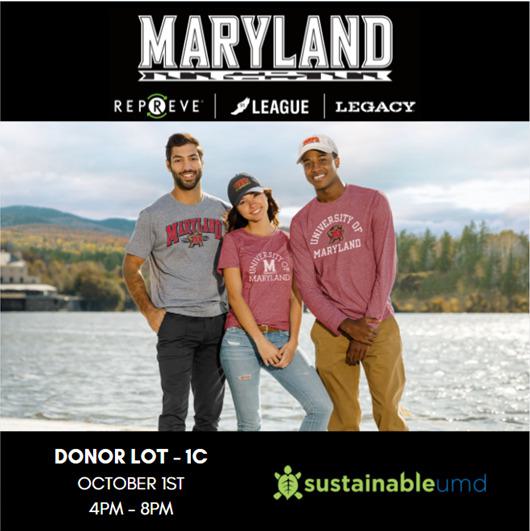 The University of Maryland, as part of its commitment to environmental stewardship and sustainability, is partnering with L2 Brands, makers of League Apparel and Legacy Headwear, to provide Terp fans with Maryland League apparel made with REPREVE recycled performance fibers.
L2 Brands, which is one of the Top 10 collegiate Licensed apparel and headwear companies in the US, recently partnered with Unifi and their REPREVE® brand.
Maryland League apparel made with REPREVE is now available at the University of Maryland bookstore. And on Friday October 1, it will be showcased inside a mobile marketing unit during Maryland's home game against Iowa. Fans, alumni and friends of the University of Maryland will be able to see firsthand how the bottles they recycle can be transformed into their favorite League shirts and fleece.
"Our partnership with L2 Brands and Unifi helps us work together to bring to our community high quality Maryland merchandise that lessens our impact on the environment and promotes sustainability," said Sagan Harlin, University of Maryland's Director of Trademark Licensing.
"Fans are able to touch and feel Maryland fan apparel that not only looks and feels great, but consumers can feel good about the products they purchase," said Pete Waldon, President of L2 Brands. "When fans see that their favorite gear is made using recycled plastic bottles, it shows the endless possibilities of sustainable products."
"Unifi is committed to working today for the good of tomorrow, and that includes educating younger generations about the importance of recycling," said Jay Hertwig with Unifi.
The University of Maryland is committed to sustainability. As part of its efforts, it is reducing its energy consumption, increasing its use of renewable energy to reduce greenhouse gas emissions by 50% by 2020 and working to achieve carbon neutrality by 2050.
About The University of Maryland
The University of Maryland, College Park is the state's flagship university and one of the nation's preeminent public research universities. A global leader in research, entrepreneurship and innovation, the university is home to more than 40,000 students, 10,000 faculty and staff, and 300 academic programs. As one of the nation's top producers of Fulbright scholars, its faculty includes two Nobel laureates, four Pulitzer Prize winners and 59 members of the national academies. The institution has a $2.2 billion operating budget and secures more than $1 billion annually in research funding together with the University of Maryland, Baltimore. For more information about the University of Maryland, College Park, visit www.umd.edu.
About L2 Brands
L2 Brands is the maker of League Apparel and Legacy headwear and home décor. The company has been in the collegiate licensing, resort, and corporate markets for 30 years and is a Top 10 Collegiate Licensee The company manufactures domestically at its facility in Hanover, PA as well as in its company-owned factory in El Salvador. L2 Brands has a strong social compliance profile with a robust supplier monitoring program and is a Participating Company with the Fair Labor Association.

L2 Brand products are made with the finest fabrics and unique embellishment techniques that give their products a premium look and feel. Since introducing its first products made with sustainable fabrics in 2018, the company has continued to invest in new sustainable fabrics and environmentally friendly manufacturing processes as they have made sustainability a core commitment. To learn more about the League and Legacy brands, visitwww.l2brands.com.
Follow @UMDRightNow on Twitter for news, UMD experts and campus updates