All News Releases
IonQ and University of Maryland Establish First-of-its-Kind National Quantum Lab
New $20M Investment From UMD Will Provide University and its Partners with Unprecedented Access to Quantum Computing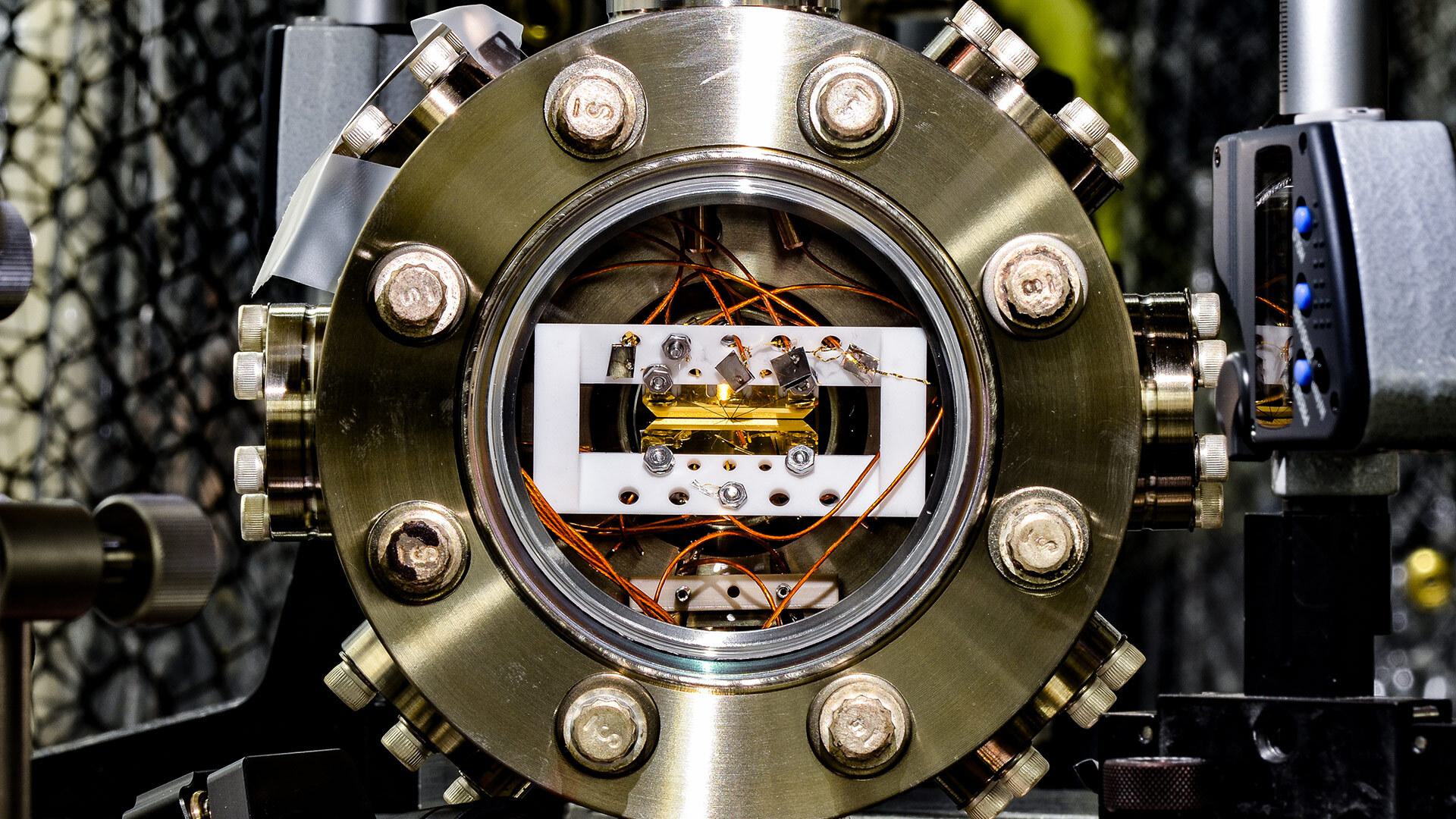 The new National Quantum Lab (Q-Lab), located adjacent to IonQ in UMD's discovery district, will give UMD-affiliated students, faculty, researchers, staff and partners access to IonQ's industry-leading trapped-ion quantum computer hardware as well as IonQ scientists and engineers.
COLLEGE PARK, Md.-- IonQ, Inc. (IonQ), the leading developer of quantum computing devices, and the University of Maryland (UMD), an international powerhouse in quantum research and applications, today announced a partnership to create the National Quantum Lab at Maryland (Q-Lab). The Q-Lab will be the nation's first user facility that enables the scientific community to pursue world-leading research through hands-on access to a commercial-grade quantum computer. UMD-affiliated students, faculty, researchers, staff and partners across the country will have an unprecedented opportunity to gain experience with IonQ's industry-leading trapped-ion quantum computer hardware and collaborate with IonQ scientists and engineers.
The Q-Lab will be located in the UMD Discovery District, next to IonQ's headquarters in College Park, MD. Leaders in science, engineering, and computing will co-locate in the Q-Lab, empowering them to work together to develop novel quantum applications. The facility will also enable training related to the use of IonQ's commercial-ready quantum hardware. Future generations of quantum programmers will receive best-in-class support as they explore projects at the cutting edge of computing, and graduate prepared to address industry challenges.
As part of this new nearly $20 million quantum investment, UMD now has access to IonQ's quantum hardware--some of the most robust in the market. Recent advances in quantum computing--including IonQ's recent demonstration of an industry-first 4x16 multicore quantum architecture--are supporting transformative research across areas including biology, medicine, climate science and materials development. The Q-Lab is expected to significantly democratize access to this innovative technology, generate new intellectual property and attract global scientific and engineering talent to the area. Building on the resources, programming and partnering opportunities provided through UMD's Quantum Startup Foundry and the Mid-Atlantic Quantum Alliance, the Q-Lab offers another incentive for entrepreneurs and startups to bring their businesses to College Park and further galvanize the area's robust private sector ecosystem.
"No other university in the United States is able to provide students and researchers this level of hands-on contact with commercial-grade quantum computing technology and insights from experts working in this emerging field," said University of Maryland President Darryll J. Pines. "We could not be more proud of IonQ's success and we are excited to establish this strategic partnership, further solidifying UMD and the surrounding region as the Quantum Capital of the world."
UMD has long been a global center of excellence in quantum computing and housed one of the laboratories out of which IonQ emerged. This first-of-its-kind Q-Lab builds upon the university's $300 million investment in quantum science and more than 30-year track record of driving advances in quantum physics and technology. The university is home to more than 200 quantum-focused researchers and seven centers, including the newly announced Quantum Leap Challenge Institute for Robust Quantum Simulation, a multi-institutional effort supported by a $25 million award from the National Science Foundation.
"We are very proud that the nation's leading center of academic excellence in quantum research chose IonQ's hardware for this trailblazing partnership," said Peter Chapman, President and CEO of IonQ. "UMD has been at the vanguard of this field since quantum computing was in its infancy, and has been a true partner to IonQ as we step out of the lab and into commerce, industry, and the public markets."
The news continues a year of considerable momentum for IonQ. Its trapped-ion quantum computers were recently added to Google Cloud Marketplace, making IonQ the only supplier whose quantum computers are available via all major cloud providers (Google Cloud, Microsoft Azure, and Amazon Web Services). In addition, IonQ's co-founders joined the White House's National Quantum Initiative Advisory Committee to accelerate the development of the national strategic technological imperative. Later this month, following a stockholder vote, IonQ also anticipates becoming the first publicly-traded, pure-play quantum computing company via a merger with dMY Technology Group, Inc. III (NYSE: DMYI) ("dMY III").
About the University of Maryland
The University of Maryland, College Park is the state's flagship university and one of the nation's preeminent public research universities. A global leader in research, entrepreneurship and innovation, the university is home to more than 40,000 students,10,000 faculty and staff, and 300 academic programs. As one of the nation's top producers of Fulbright scholars, its faculty includes two Nobel laureates, four Pulitzer Prize winners and 59 members of the national academies. The institution has a $2.2 billion operating budget and secures more than $1 billion annually in research funding together with the University of Maryland, Baltimore. For more information about the University of Maryland, College Park, visit www.umd.edu.
About IonQ
IonQ, Inc. is the leader in quantum computing, with a proven track record of innovation and deployment. IonQ's 32-qubit quantum computer is the world's most powerful trapped-ion quantum computer, and IonQ has defined what it believes is the best path forward to scale. IonQ is the only company with its quantum systems available through the cloud on Amazon Braket, Microsoft Azure, and Google Cloud, as well as through direct API access. IonQ was founded in 2015 by Christopher Monroe and Jungsang Kim based on 25 years of pioneering research. To learn more, visit http://www.IonQ.com.
​​About dMY Technology Group, Inc. III
dMY III is a special purpose acquisition company founded by Harry L. You and Niccolo de Masi for the purpose of effecting a merger, capital stock exchange, asset acquisition, stock purchase, reorganization or similar business combination with one or more businesses or assets.
Follow @UMDRightNow on Twitter for news, UMD experts and campus updates