All News Releases
Advancing Climate-Smart Infrastructure and Building Construction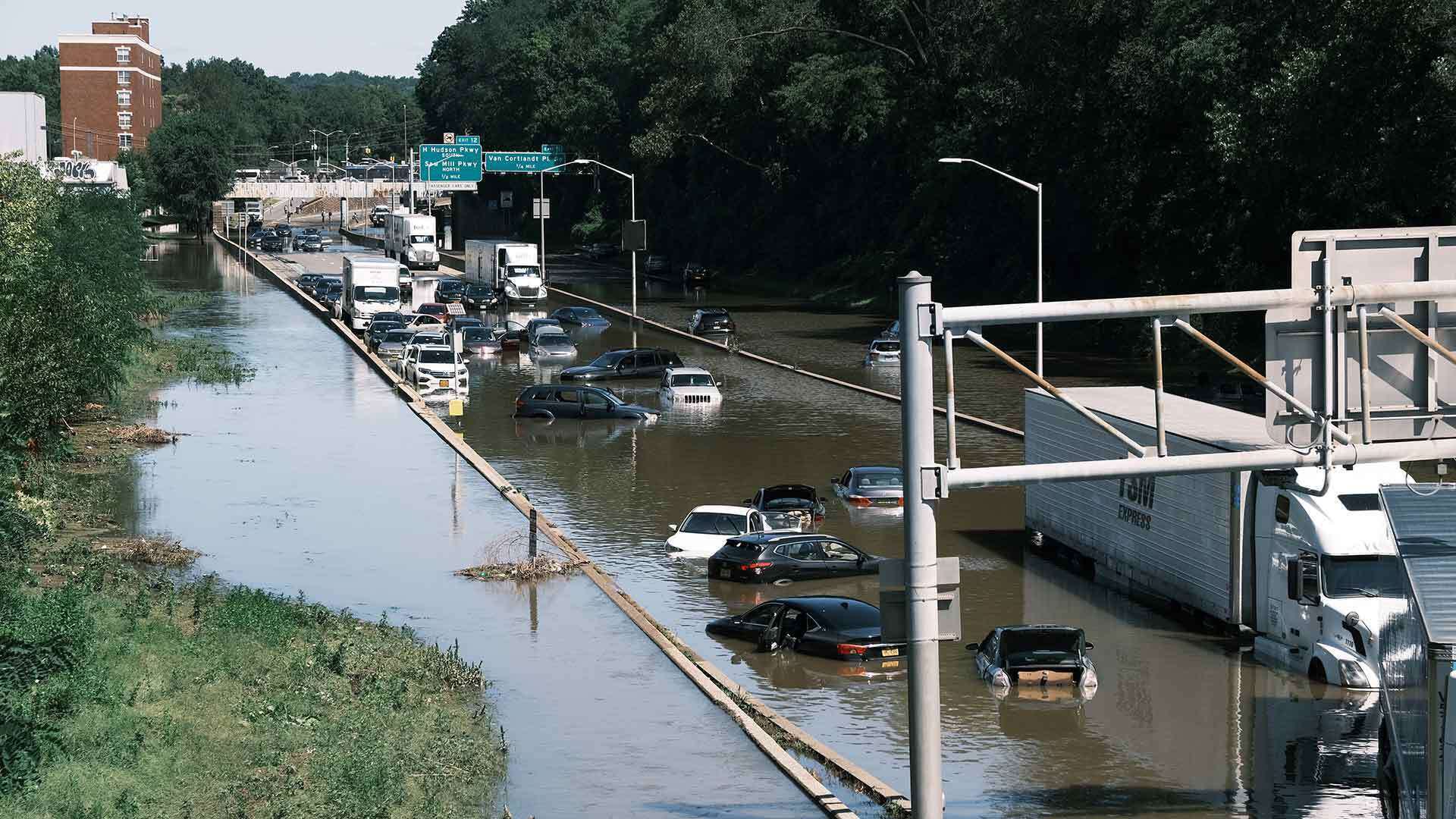 As nations continue to gather at the major United Nations Climate summit (COP26) in Glasgow, the University of Maryland has joined with a U.S. federal agency on the front lines of climate change, and with a major engineering group to accelerate the development of climate-smart engineering-- an effort that will be highlighted during a COP26 virtual panel on Tuesday, Nov. 9.
The collaboration among the National Oceanic and Atmospheric Administration (NOAA), American Society of Civil Engineers (ASCE) and UMD will help integrate NOAA-produced climate science into U.S. building codes and standards. Among the goals are reducing the impacts of rapidly increasing climate-linked disasters, such as September's deadly flash flooding in New York City, by decreasing the vulnerability of buildings, roads, bridges, local utilities, storm water management systems and other parts of our built environment to the effects of climate changes.
This new partnership—which comes as the just passed 2021 infrastructure bill outlines the largest ever U.S. investment to address impacts of climate change—will apply climate change information and predictions to the development and updating of the ASCE codes and standards that guide building and infrastructure design and construction in the U.S.
UMD's collaboration with NOAA and ASCE adds to UMD's large number of climate change related joint research efforts, which include the NOAA-UMD Cooperative Institute for Satellite Earth System Studies, designed to enhance NOAA's ability to use satellite observations and Earth System models to monitor, understand, predict and communicate information on climate variability and change.
Samuel Graham, Jr., dean of UMD's A. James Clark School of Engineering, said this new NOAA, ASCE, UMD collaboration will help close the gap between climate change awareness and engineering practice. "Society wants and needs solutions to the world's grand challenges like climate change; engineers will play a central role in every solution," he said. "The built environment, homes, stores and office buildings, are as affected by climate change as the natural environment and if designed improperly, help to contribute to the problems we are seeing today. Translating that knowledge into building best practices is what our new joint endeavor is all about. We're glad to partner with the government and industry to help protect people and property."
"This partnership can help us accelerate the move toward more climate-resilient infrastructure for the nation and globally," said Rick Spinrad, NOAA administrator. "Our goal is to bring climate information into the nation's standard-setting process to increase the pace of climate adaptation and reduce design, construction and maintenance costs as well as the costs of climate-related natural disasters."
=======================================================================
More details about the NOAA, ASCE and UMD partnership will be provided during a COP26 virtual panel hosted by NOAA and moderated by Bilal Ayyub,UMD professor of Civil and Environmental Engineering, and Director of the Center for Technology and Systems Management. It will be live-streamed on Tuesday, November 9, from 1 PM to 2 PM ET on the conference's U.S.-focused YouTube channel
=======================================================================
The Clark School's Center for Technology and Systems Management and it's director Bilal Ayyub and associate director Dan Walker lead the university's participation. According to Ayyub, awareness of the importance of climate resilience is growing among the community involved in the siting, design, and construction of the built environment. However, Ayyub—who is editor-in-chief of the Journal on Risk and Uncertainty in Engineering Systems published by the American Society of Civil Engineers and the American Society of Mechanical Engineers—said that challenges remain. He noted that.chief among these is the well-documented gap between engineering practice and the evolving understanding of the probability of weather and climate extremes.
"The 2021 infrastructure bill with the largest investment ever by the United States to address the impacts of climate change is a historic initiative for planning, design and construction of climate-resilient infrastructure," said Ayyub. "It will directly and indirectly influence our engineering practices including codes and standards to help communities prepare for the new age of extreme fires, floods, storms and droughts.
Leading Climate Change Research at the University of Maryland
UMD researchers across widely ranging disciplines—including science, engineering, public policy, business and agriculture—are conducting a broad scope of important climate change related work. In addition to the Center for Technology and Systems Management involved in this new partnership, UMD centers and institutes that are leading this work include the following:
Some of UMD's many climate change experts can be found here, and here is a list of UMD resources for media covering COP26/climate change
Recent related UMD infrastructure and climate related stories include:
$12.75M Bezos-funded Grant to Support Geography Researchers' New Approach to Global Mapping
Project With World Resources Institute Will Cut Through Data Clutter to Protect the Earth
Secretary of State: 'Domestic Renewal' Needed Through Infrastructure Investments
Blinken Emphasizes Importance of Spending at Home to Remain Global Leader in Campus Speech
###
Follow @UMDRightNow on Twitter for news, UMD experts and campus updates